Chicago 3ds Max Automation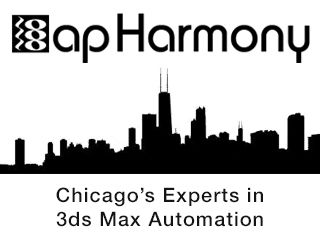 apHarmony offers 3ds Max automation services. Whether you are looking to build an automation engine using 3ds Max, create a distributed render farm, or simply develop MaxScript applications to aid in the 3D development workflow, we will be happy to bring our team to your software project. Please give us a call at 630-855-7522 for a free evaluation and quote.
In addition to bringing a 3D designers a powerful too for modeling, texturing, and rendering, 3ds Max also boasts a flexible backend language called MaxScript for design automation. Most modeling and rendering tasks can be scripted through the MaxScript engine. With external command-line interfaces, the full modeling workflow can even be accessible from external applications. This can enable scenarios such as distributed, complex rendering and automated sub-feature rendering.
With its prototype-based design, the MaxScript engine can even be extended to plugin automation. Rendering engines such as V-Ray can be brought into the render pipeline and customized for target rendering. Distributed render tasks can be used to create a virtual Render Server as a replacement for the default 3ds Max server, which can often crash or skip certain queued items.
In addition to rendering, MaxScript can also be used to dynamically create models and implement advanced effects. Repetitive modeling tasks can be scripted into commands, and then layered with other tasks into batch processes. When creating animations, MaxScript can be a critical tool to save design time by helping to apply actions throughout multiple frames in the project. 3ds Max automation can even work on multiple 3d files at the same time, coalescing objects or applying synchronized transformation effects.
With its flexibility and feature-rich command set, the 3ds Max scripting engine provides for many exciting automation scenarios. Please feel free to give us a call at 630-855-7522 for a free evaluation and quote on a MaxScript development project.
3ds Max Automation Chicago
Free Software Consultation
We are looking forward to learn more about your project, and provide an innovative solution to your business needs.