Chicago Advertising Software Development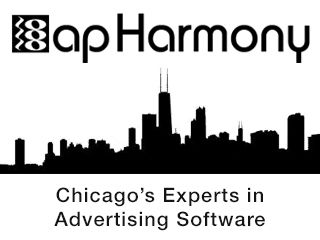 apHarmony offers advertising software development. Whether you are looking to build new software to support an advertising organization, maintain existing software, or create a new software product geared toward advertisers or marketers, we will be happy to bring our team to your software project. Please feel free to give us a call at 630-855-7522 for a free evaluation and quote.
Advertising software can be a significant source of revenue for a digital business. Much of the revenue from digital businesses is created in the form of advertising, and the creative new forms of advertising have proliferated the Internet and spearheaded much of the development of web and mobile apps. As an increasing number of users are switching to mobile devices, exciting new possibilities are becoming available to reach this large audience.
The back-end for most advertising platforms enables convenient purchasing of ad space by marketing companies. This software may also include tools to create ads, as in the case of Google Adwords. Advertising software helps to provide a convenient ordering interface for advertising, as well as information regarding the placement, duration, and progress of ad campaigns.
One of the exciting new advancements in advertising is fine-grained conversion tracking and user analysis. Through integration of advanced tools and lead generation tracking software, each component of an advertising campaign can be tracked and analyzed for maximum return on investment. An effective lead generation tool can also provide marketing automation – automated responses to user inquiries that are targeted to specific variables such as geographic location, interests, and demographics. Through micro-marketing, both lead generation can be increased, as well as the conversion rate of sales leads. Marketing is poised to take advantage of big data analysis and complex-event processing for accurate lead tracking, targeting, and increased marketing source performance.
For a free evaluation and quote on an advertising software development project, please feel free to give us a call at 630-855-7522.
Advertising Software Development Chicago
Free Software Consultation
We are looking forward to learn more about your project, and provide an innovative solution to your business needs.