Chicago ASP.NET Software Development Company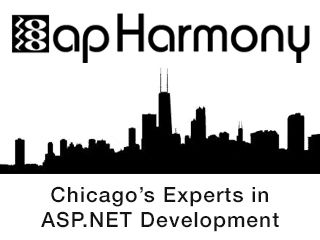 apHarmony will be happy to bring our extensive ASP.NET software development experience to your next programming project. Please feel free to give us a call at 630-855-7522 for a free consultation.
ASP.NET offers a stable and proven environment for web application and mobile app development. The extensive capabilities of the framework span MVVM, AJAX, Authentication, and the full suite of .NET components.
One of the most exciting features of the framework is its ability to natively integrate with many existing .NET applications. ASP.NET can be leveraged to create deliver reports, print, email, and provide automation and integration with existing systems. In addition, since all ASP.NET apps are deployed on IIS, COM and traditional APIs can be used to connect to legacy applications on the Windows platform.
The two primary languages for ASP.NET development are C# and VB.NET. C# is the language favored by professional developers, as its syntax is similar to traditional languages such as C/C++. VB.NET has an equal level of capability, meaning that every application that is developed in C# can also be developed in VB.NET, however it lacks the clarity and maintainability that is offered by C#.
Once an ASP.NET development project is complete, it will move into the maintenance phase. During this time, updates and enhancements will be made to the application in order to suite evolving business needs. The main challenge during this time is to keep the original spirit of the application, and make sure that it evolves in an orderly fashion. If the original application was well built, it should last five to eight years. Poorly designed applications, on the other hand, will often have to be redesigned every few years due to limitations in flexibility and scalability of the software. This is why it often pays to hire an experienced systems architect, to make sure that the software will last well into the future.
apHarmony will be happy to bring our ASP.NET software development expertise to your next project. Please feel free to give us a call at 630-855-7522 for a free consultation.
ASP.NET Software Development Company Chicago
Free Software Consultation
We are looking forward to learn more about your project, and provide an innovative solution to your business needs.