Chicago Asterisk Integration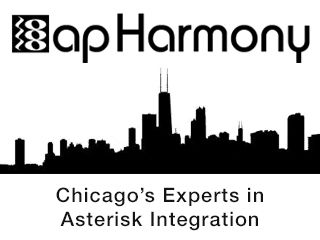 apHarmony offers Asterisk integration services. Whether you are looking to integrate Asterisk with an existing system, troubleshoot an Asterisk integration, or build a completely new Asterisk-based app, we will be happy to bring our team to your software project. Please feel free to give us a call at 630-855-7522 for a free evaluation and quote.
The Asterisk voice over IP platform is a flexible and open-source system that enables third-party applications to integrate directly with the full PBX. Through a full-featured API, most aspects of the phone system can be automated, from click-to-dial, to call-notifications, to full control over the call process in menu systems. Advanced integrations can even take a deeper dive into Asterisk internals by modifying the source kernel. Natural language processing can be integrated into the system to recognize what users are saying, and artificial intelligence techniques can respond to user inputs with the proper answer.
In addition to phone system integration, Asterisk offers a wide array of call reporting and statistics software. Calls can be monitored and integrated with CRM systems to provide fine-grained analytics. Call duration, call volume, and call results can be recorded and tallied on a per-operator basis for training and management. Call-scripting apps can even be built on top of the Asterisk platform, to provide telemarketers with hints and information to help increase their performance.
One of the more advanced features is integration of natural language processing with call assistance. Since CRM systems can be integrated to automatically provide information on call, natural language processing can help to highlight certain areas of the customer record that will help achieve the goals. This can range from analysis of help tickets and display of related solutions, to automated training in-line with conversion.
For a free evaluation and quote on an Asterisk integration project, please feel free to give us a call at 630-855-7522.
Asterisk Integration Chicago
Free Software Consultation
We are looking forward to learn more about your project, and provide an innovative solution to your business needs.