Chicago Big Data Software Development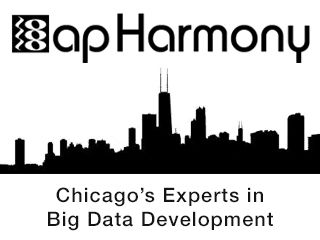 As an increasing number of devices and software are making large data streams available, the opportunity is ripe for using big data to gain groundbreaking insights. apHarmony will be happy to bring our software development expertise to your big data software development project. Please feel free to give us a call at 630-855-7522 for a free consultation.
Big data software projects can give an organization a significant competitive advantage, helping to transform them into a market leader, or even further extending their lead. By combining data across departments and devices, new KPIs can be developed to improve company performance.
The three main components of a big data software project are the data import and storage, the data analysis, and the data visualization. Successful implementation of each area is vital to the success of the project.
Depending on the volume of the data, the import and storage can significantly influence the cost of the project. With smaller data streams, the entire project could likely sit on a single server. As data requirements increase, transactions and update locks become a crucial part of the development process, and it is necessary to store, index, and access the data in an organized fashion to prevent deadlocks and slow performance. Distributed servers can help reduce these requirements, however this in turn increases the complexity of development.
Data analysis is focused on taking the data streams and efficiently processing them into an intermediate representation for use in visualization. During this phase of the project, the developers typically work with a client-side data analyst with industry experience. The analyst will develop the necessary formulas, while the developers will design an efficient storage mechanism.
Data visualization then takes the stored data and generates the charts, graphs, and reports used by management to make key decisions. A business analyst will typically work with management stakeholders to define the visualization requirements, and then developers will create an interface that generates the charts and graphs that will provide the business insights.
For a free quote on a big data software development project, please feel free to give us a call at 630-855-7522.
Big Data Software Development Chicago
Free Software Consultation
We are looking forward to learn more about your project, and provide an innovative solution to your business needs.