Chicago Business Intelligence Applications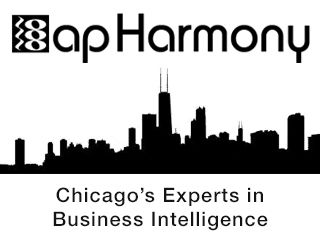 apHarmony offers business intelligence software development services. Whether you are looking to develop new software for reporting and analytics, or maintain, enhance, and support existing applications, we will be happy to bring our team to your software project. Please feel free to give us a call at 630-855-7522 for a free evaluation and quote.
Business intelligence applications often provide a direct and tangible return on investment, as well as opportunities to increase market share or improve productivity. Through the automated metrics and reporting, data analysis, predictive modeling, and prescriptive modeling, organizations can leverage their data for actionable insights that improve organization performance. Business intelligence can be one of the primary drivers of technology, and provide insights in systems across the enterprise – from CRM, to operations, to accounting, to lead generation software.
While traditional business intelligence software has primarily been concerned with reporting and metrics, the advent of big data processing techniques have brought the analytics side of BI to truly flourish. By combining disparate data sources and improving the ease with which developers can query those data sources, business analysts can provide new insights through complex event processing analysis to find the true drivers behind the events that impact the organization. These insights can often provide a significant competitive advantage.
New advances in business analytics provide even more exciting opportunities for organizational improvement. Through application of machine learning and artificial intelligence algorithms, systems can be built to recognize complex multi-variate events, as well as dynamically adapt to changing market conditions. While AI has been steadily making academic progress since the 1970's, the field has exploded in 21st century with the availability of inexpensive processing and tools to simplify development.
apHarmony will be happy to work with your organization to implement business intelligence software to help revolutionize your business. Please feel fee to give us a call at 630-855-7522 for a free evaluation and quote.
Business Intelligence Applications Chicago
Free Software Consultation
We are looking forward to learn more about your project, and provide an innovative solution to your business needs.