Chicago Business Process Automation Software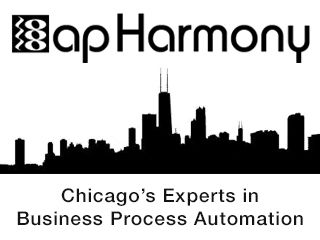 apHarmony offers business process automation software development. Whether you are looking to reduce paperwork, increase productivity, or improve communication within the company, we will be happy to bring our team to your software project. Please feel free to give us a call at 630-855-7522 for a free evaluation and quote.
Business automation software can help your company become more competitive and ensure that best business practices are followed throughout sales and operations. Once an organization reaches a certain size, it is imperative to standardize operations in order to facilitate further growth. Lack of controls can help a small organization while it is starting out, however as department and business functions develop in the organization, business process automation will help to reduce errors, improve communication, and provide each customer the optimal experience with the company.
One of the aspects of a business process automation implementation is a reduction in paperwork. Although this may have direct savings in reduced overhead and costs, the true return on investment in paperwork reduction is realized once the system has been in place for several months to a year. with all the information in the system, it is possible to run reports, search data, and analyze data in a much easier fashion than before. Using an effective business process automation platform will help highlight key performance indications that point out either problems or opportunities for improvement in marketing, sales and operations.
Business process automation extends much further, however, than the line-of-business database application. Automated communications can keep customers and stakeholders informed of project progress. Even printed mailings can be integrated with the system to automatically print information at key touch-points. Depending on whether the actions are process-based or event-based, the automation platform can take actions based on multiple distributed tasks throughout the system.
For a free evaluation and quote on a business process automation project, please feel free to give us a call at 630-855-7522.
Business Process Automation Software Chicago
Free Software Consultation
We are looking forward to learn more about your project, and provide an innovative solution to your business needs.