Chicago Content Management System Programming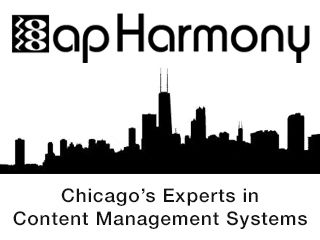 apHarmony offers content management system programming services. Whether you are looking to create a new content portal, maintain or extend an existing content management system, or integrate with other applications, we will be happy to bring our experience to your next project. Please call our development team at 630-855-7522 for a free consultation.
A content management system is generally tasked with organizing and displaying content from a group of editors to its users. These systems can be localized to an individual department, used across a company or organization, offered to a paying subscriber base, or fully accessible by the public. As organizations grow, their needs for a content management system may change over time, on order to better serve their goals.
For organizations with many editors and publishers, the security system is a key component in the design of the content management system. Users should have access to their particular area of the system, and not be able to make changes outside that scope. Passwords should follow security requirements, and be the user database should be updated to make sure that terminated users no longer have access to the system. A flexible role-based security can help significantly in reducing complexity, as roles group the individual permissions based on organizational function.
For public-facing content portals, especially those provided by the government, it's often important to make sure content is accessible by users with disabilities. A variety of standards exist that help identify which website and design elements make the most impact for the disabled. At the very least, text should be used as opposed to text-based images, and the website should be compatible with browser-based font enlargement. Creating a responsive web design will help make sure the site handles both of those requirements, and will also make the site accessible across a wide variety of devices and platforms, such as mobile phones and tablets.
For a free consultation on a content management system programming project, please feel free to give us a call at 630-855-7522.
Content Management System Programming Chicago
Free Software Consultation
We are looking forward to learn more about your project, and provide an innovative solution to your business needs.