Chicago Crystal Reports Programming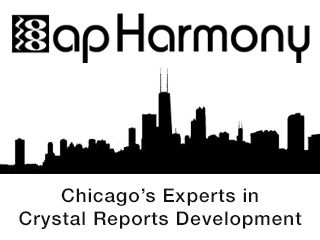 apHarmony offers Crystal Reports programming services. Whether you are looking to develop new reports, modify existing reports, or integrate with Big Data services, we will be happy to bring our experienced team to your project. Please feel free to give us a call at 630-855-7522 for a free evaluation and quote.
Crystal Reports simplifies report development to the point that business analysts and power-users can develop reports that were once the purvey of only developers. The agile interface offers export to Excel and PDF, and enables integration with a variety of data sources. For more complex reports, programming is often necessary to properly format, lay out, and define relationships between the data. Still, the platform offers rapid development tools to help reduce the time it takes to develop and report and move it to production.
As one of the most popular reporting platforms, Crystal Reports has developed over time to provide standard reports, parent/child tabulation, charting, and formula-based data evaluation. Integration is possible with a variety of software platforms, including SAP, Java, and Visual Studio. While the desktop version of Crystal Reports requires an installed client, it is also possible to leverage Crystal Reports for web and mobile applications.
Each report requires the initial setup of a data source and database fields. This can be challenging in applications with a middle-tier of interface with business objects. Although a basic interface does exist within Crystal Reports for these situations, it is often necessary to create a custom layer for seamless integration.
When developing reports, the project always starts with the business use-case and key performance metrics that the report will help to identify. A business analyst or subject-matter expert is often vital for successful definition of these parameters. Occasionally, important data outside the scope of the current database may need to be integrated to publish the desired metrics. If that is the case, the data will either need to be imported into the primary database, or a multi-database connection will need to be used to tie together the data sources.
For a free evaluation and quote on a Crystal Reports programming project, please feel free to give us a call at 630-855-7522.
Crystal Reports Programming Chicago
Free Software Consultation
We are looking forward to learn more about your project, and provide an innovative solution to your business needs.