Chicago Custom Accounting Software Development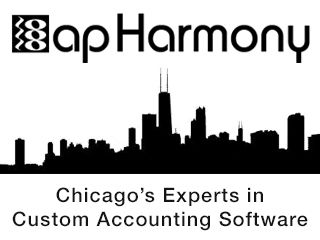 apHarmony offers custom accounting software development services. Whether you are looking to create a new software implementation, integrate with existing accounting software, or maintain and support a production application, we will be happy to bring our expertise to your project. Please feel free to give us a call at 630-855-7522 for a free consultation.
With a stable accounting framework, new accounting software implementations can be developed rapidly and effectively. The key components of most accounting implementations generally stay the same between applications, such as the general ledger, audit trails, security, and reporting framework. Customization for a particular application is built on top of this foundation, and can leverage proven and tested code for quicker delivery and increased reliability.
Implementation projects can be made easy or challenging primarily by the API exposed by the existing accounting package. A flexible API will make the job easy, while a more closed API can require advanced integration techniques – such as software automation and low-level Windows emulation. The ideal situation is when direct database access is made available, and this is often the case for most mainstream mid-size accounting packages. The challenge in any implementation project is support once the application is deployed, since over time the API can change, resulting in occasional rework necessary every few years to adapt to the new protocol.
Maintenance and support of existing applications can be an effective way to prolong the life of an accounting package. Often users request a few quick changes based on new business needs or regulatory changes. Additionally, new reports can be produced to develop new insights into the business, or track performance. By combining a variety of data sources and using Big Data analysis techniques, new KPIs can be developed to create even more accurate results and insights.
For a free consultation on a custom accounting software development project, please feel free to give us a call at 630-855-7522.
Custom Accounting Software Development Chicago
Free Software Consultation
We are looking forward to learn more about your project, and provide an innovative solution to your business needs.