Chicago Custom Lead Generation Software Development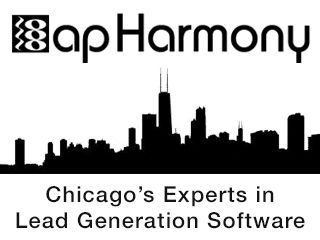 apHarmony provides custom lead generation software development. Whether you require a system to manage and distribute leads, a software package that generates new leads from a database or the Internet, or a fully integrated telemarketing system, we will bring our extensive experience in the lead generation industry to your next project.
One of the most popular forms of lead generation is analyzing an existing database or scraping information from the Internet. Important data with high-potential clients is often publicly accessible, though difficult to manage. In order to easily access the data, a programmer can create software that will download the information into a local database. The database will significantly reduce the time required to look up leads and increase the productivity of your lead generation efforts.
In addition to scraping database from the Internet and databases, a good lead generation system will organize the information in an easily accessible format. In that way, the salespeople can efficiently contact prospective customers, and organize notes on their efforts. In addition, lead generation software can automatically organize prospects into "batches" or groups, making sure that each prospect is called at the right time during the sales process.
One of the exciting technological advances to lead generation is phone system integration. This allows lead to pop-up on the screen when they call, as well as make it easier to dial out to prospective customers. These features improve customer service and telemarketer efficiency.
Finally, drip marketing and email automation can significantly increase sales through strategic, personalized messages at the correct time during the sales cycle. If the organization has multiple salespeople and centralized lead management, this can help make sure that each customers receives the ideal sales experience.
For information on lead generation software development and a free consultation, please give us a call at 630-855-7522.
Custom Lead Generation Software Development Chicago
Free Software Consultation
We are looking forward to learn more about your project, and provide an innovative solution to your business needs.