Chicago Custom Software ROI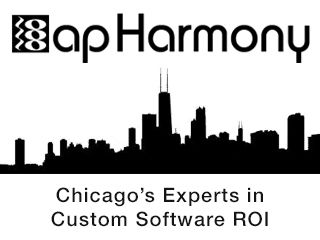 Custom software can often help to improve employee productivity, increase sales, and provide key business insights for effective decision-making. apHarmony will be happy to bring our team of software engineers and business analysts to review the potential return on investment for your software project. Please feel free to give us a call at 630-855-7522 for a free evaluation and quote.
The fundamental business proposition of most initial line-of-business software projects is better organization of data and capability to increase business scalability. Inefficient or outdated systems can often hinder further growth, by having high overhead, not providing the information necessary at the right time, or enabling customer service issues and late delivery. At a certain point, when management finds that it is spending more time putting out fire than pursuing new opportunities, it's vital to take a step back and review the possibility of a new system to better handle business operations.
Line of business software often begins with lead management and CRM (customer relationship management). An effective lead nurturing campaign can help increase sales conversion, by providing proper brand development and automated or organized sales responses at key touch-points in the sales process. Together with sales and marketing performance tracking, these tools can help improve both lead generation and sales team efficiency.
On the project execution side, many projects can be buried under a mountain of paperwork, with a few key personnel controlling and organizing the projects. Although this can work well for small volume, as the business grows, operations need to be standardized, and key information needs to be automatically available on customer records throughout the company. Line-of-business software helps organize operations to make sure that each employee can perform their task at the right time, and no items will slip through the cracks.
apHarmony will be happy to work with your team to perform a business-case analysis of the return on investment of a custom software development project. Please feel free to give us a call at 630-855-7522 for a free evaluation and quote.
Custom Software ROI Chicago
Free Software Consultation
We are looking forward to learn more about your project, and provide an innovative solution to your business needs.