Chicago Data Management Software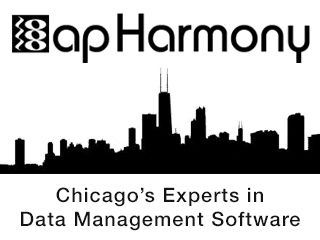 apHarmony offers data management software development services. Whether you are looking to coalesce or transform existing data, integrate data administration tools, or create custom applications, we will be happy to bring our team to your software project. Please feel free to give us a call at 630-855-7522 for a free evaluation and quote.
Data management software, in its simplest form, is the maintenance and governance of existing sources. From file storage, to structured databases, to unstructured data, data management software tracks data through its entire life-cycle. In addition to data asset tracing, data management software can offer data quality analysis and proactive data improvement, as well as data governance. The wide spectrum of data management software can organizations to maximize the capabilities of data sources, and help make the data available where necessary for analysis and key business insights.
File storage management and database management can be a challenging task for organizations with big data sources. Data warehouses can help alleviate the burden on primary servers, however running queries and performing analysis on data archives can be a challenge. A variety of tools have recently become available with the explosion of big data in the enterprise, from Hadoop to ElasticSearch, that simplify operations and enable business analysts easier access to key data sources. In addition through complex event processing, those data streams can be made available for machine learning applications that translate to real-time insights.
Data quality is another key concern for large-scale data sets. While the data for a certain report or application may theoretically be available in the system, problems with data quality may prevent feasible integration of that data source. Proactive data quality analysis and improvement may help to turn data quality challenges into opportunities, addressing possible problems before they become prevalent throughout the data set, and targeting potentially valuable data sources for quality control ahead-of-use, so that the data will be readily available exactly when it will be needed by the analytics team.
For a free evaluation and quote on data management software, please feel free to give us a call at 630-855-7522.
Data Management Software Chicago
Free Software Consultation
We are looking forward to learn more about your project, and provide an innovative solution to your business needs.