Chicago Data Mining Software Development Company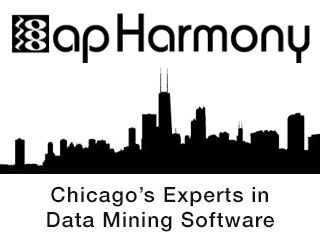 apHarmony offers data mining software development services. Our team will be happy to bring our experience in data mining to your next software project.
There are various types of data mining depending on the client needs. A project can range from scraping open Internet data sources for information, to extracting information from a database or internal company data warehouse, to advanced projects incorporating artificial intelligence for pattern recognition and analysis.
One of the primary purposes of data mining is in the marketing and sales departments. In order to deliver leads to salespeople or gather a list of potential prospects, data mining can be used to scan the Internet for a very targeted client profile. This can save significant time for the sales department, weed out low-potential clients, and increase the effectiveness of marketing campaigns.
One of the exciting new revolutions in data mining is the integration of big data. Various data sources across the company can be integrated in order to analyze patterns and discover new trends. For instance, marketing, sales, and production data can be combined to find signs of the most profitable client relationships, allowing the sales team to realign their compensation plan to focus on the highest-potential customers.
Even intra-department data sources can be a great source for a data mining software project. Marketing often has a wide variety of data sources that are disconnected, and don't know the true impact of various types of advertising, such as billboards and other components in a multi-channel campaign. With big data and data mining, marketing sources can be correctly attributed and surprising relationships can be discovered to further increase lead generation and fuel the sales pipeline.
For a free consultation on your data mining project, please feel free to give us a call at 630-855-7522.
Data Mining Software Development Company Chicago
Free Software Consultation
We are looking forward to learn more about your project, and provide an innovative solution to your business needs.