Chicago Data Scraping Utilities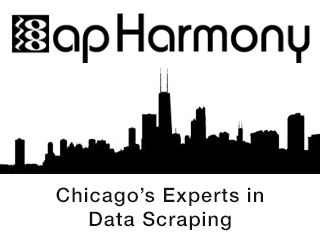 apHarmony offers software development services for data scraping. Whether you are looking to build a new data scraper or support an existing system, we will be happy to bring our team to your software project. Please feel free to give us a call at 630-855-7522 for a free evaluation and quote.
Data scraping is usually built to parse external data sources without a native API, and store the extracted data into a local database. With the dynamic and changing nature of web systems, it's critical to both build data scraping systems to be easy to update, and also to contain a measure of reliability and artificial intelligence to dynamically adapt to changing interface elements.
Properly implemented data scraping software can offer businesses a strong competitive advantage in sales and marketing. By scraping publicly available or private database for potential clients, a more targeted list can be developed than by traditional means. Data scraping has the potential to create both detailed and finely tuned marketing records and enable filtering by advanced characteristics not possible with most off-the-shelf lead providers.
Another key element of data scraping is real-time feed updates. By combining data scraping with comparative analysis tools, events can be triggered when certain criteria are met. These events could signal the proper time to contact a lead, or recognize changes that might only be visible upon repetitive inspection of a data source. Bringing time-series change management to a data scraping tool can offer competitive intelligence and advanced analytics that provide key business insights and competitive advantage in the market.
With all the power of data scraping tools, it's important to work with a partner who is able to help leverage the possibilities for maximum advantage. apHarmony will be happy to bring our analytics and development team to your project. For a free evaluation and quote, please call us at 630-855-7522.
Data Scraping Utilities Chicago
Free Software Consultation
We are looking forward to learn more about your project, and provide an innovative solution to your business needs.