Chicago Document Management Software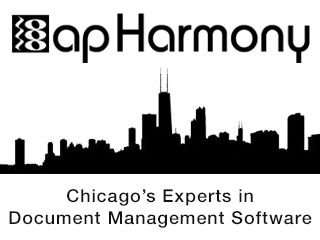 apHarmony offers document management software development. Whether you are looking to develop a new application to simplify document management, integrate an existing application, or maintain and support existing software, we will be happy to bring our team to your software project. Please feel free to give us a call at 630-855-7522 for a free evaluation and quote.
Document management software can help to significantly reduce overhead and simplify operations in many paper-heavy businesses. In addition to scanning, reading the content of pages, and making it available to search, more advanced document management software can provide structured data feeds with hierarchical data tables.
When converting from paper-based to digital systems, one of the challenges can be integrating with existing software. When the line-of-business software has advanced logic or workflow that efficiently handles operations, it can sometimes make more sense to integrate with the existing software instead of replacing it with a new solution. Integration sometimes requires access to the source code of the software, however certain applications can also enable external integration without recompiling the software. In other situations, it is possible to create "listener" systems that will automatically plug-in with the software to augment screens as necessary. These systems can help provide a seamless interface to existing software even if the source code is not available.
When maintaining and supporting existing systems, a key factor can be the level of support afforded by the existing software vendor. If the vendor offers no support for a legacy or discontinued application, it is often necessary to utilize process monitoring and decompilation tools to fix complicated bugs or adapt to new operating systems or updates. Regardless of the system, these is usually a work-around that will enable users to hold over until a more thorough upgrade can be implemented throughout the organization.
For a free evaluation and quote on a document management software project, please feel free to give us a call at 630-855-7522.
Document Management Software Chicago
Free Software Consultation
We are looking forward to learn more about your project, and provide an innovative solution to your business needs.