Chicago Fax Integration Programming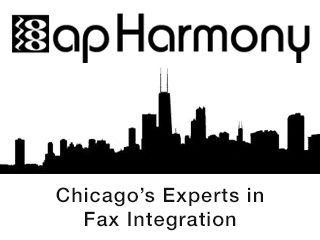 apHarmony offers fax integration services. Whether you are looking to integrate fax with an existing application, develop a new application for fax services, or fix errors in already-built fax software, we will be happy to bring our team to your software project. Please feel free to give us a call at 630-855-7522 for a free evaluation and quote.
Fax services can be integrated on both the Linux and Windows platforms to help improve communication with customers and vendors. A fax system can both help reduce customer service overhead, and provide immediate updates on product or order status. While email is an effective medium for non-urgent communication, fax provides direct and highly visible notification to the recipient party. This can be especially helpful in busy and low-tech work environments.
There are two general methods for fax integration – through direct access to a fax machine, or through web-based access to a hosted fax service. A direct fax machine generally has cheaper ongoing costs due to the high per-fax and subscription cost of fax services. The primary drawback of a fax line is that, as many companies switch to VoIP phone systems, those systems are often not compatible with fax machines. In addition, there is a moderate form of vendor lock-in with a direct fax service, since it requires operating-system level API integration as opposed to the fully generic REST APIs offered by many fax web service vendors.
When developing fax systems, in addition to programming the fax sending interface, it is also crucial to both archive a copy of the sent fax and verify receipt. Fax machines operate over relatively unreliable phone lines, which may often be busy or break transmissions mid-stream. As a result, it is important to ensure the system properly retries until the fax is successfully sent or a timeout occurs. Logging and error notification are also important components to help ensure fax system reliability.
For a free evaluation and quote on a fax service integration project, please feel free to give us a call at 630-855-7522.
Fax Integration Programming Chicago
Free Software Consultation
We are looking forward to learn more about your project, and provide an innovative solution to your business needs.