Chicago Financial Reporting Software Development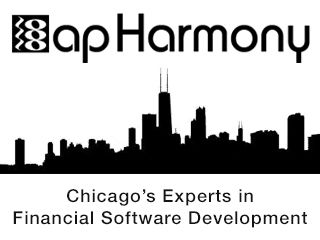 apHarmony will be happy to bring our extensive software development expertise to your financial reporting software project. Whether you are looking to create insightful reports based on existing data, tie together multiple disparate data sources, or perform advanced analysis or quantitative computing, we will be happy to help you in programming the financial reporting software. Please feel free to give us a call at 630-855-7522 for a free consultation.
Reporting integration projects are most easily handled with direct access to the database. If a standard database SQL or other interface is available, the data can be accessed directly for report processing. Often, however, the financial software might keep the data in a proprietary format to prevent direct access. In this case, it is necessary to either use an API provided by the software company, or create an automated export interface using advanced automation. Using automation technology, even the most challenging data sources can be accessed and used for analysis.
In the case of large data sets, it is often necessary to use a separate database for the data mining operations. This database may either previously organize the data in a format for simpler processing, or it may load just the pertinent information to reduce strain on the primary database during report generation. It is often desirable to run the data mining database on a separate server, in order to reduce load on the primary database. In addition, synchronization jobs can run during off-peak hours to ensure good database performance. Of course, depending on the nature of the data and reporting required, other techniques may need to be used to synchronize if real-time data is necessary.
With the advances in reporting technology, financial reports can be generated for print, desktop, mobile, or spreadsheet export. Drill-down reports can be developed for further insight, and even custom 2D or 3D visualizations can be created to analyze the data in a more intuitive format.
Please feel free to give us a call at 630-855-7522 for a free consultation on a financial reporting software project.
Financial Reporting Software Development Chicago
Free Software Consultation
We are looking forward to learn more about your project, and provide an innovative solution to your business needs.