Chicago Freelance Programming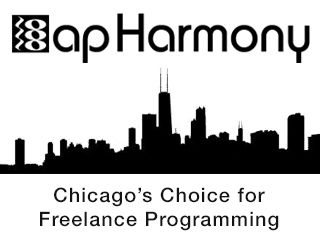 Hiring a freelance programming company can be a great way to develop a software project. apHarmony offers freelance programming services, and we will be happy to bring our expertise to your next software project.
The key to a successful freelance programming project is to make sure each person working on the project is an expert in their field. For instance, it doesn't make sense to have a developer do design work, or to have a system architect spend his time on a simple maintenance update. By hiring a freelance company with several different specialists, the resulting software will be of better quality, and developed at a lower cost.
Another extremely important facet of a freelance programming project is communication. At the beginning of the project, both the client and the developer need to take extra care to ensure both sides understand clearly the planned path. The brainstorming and architecture phase facilitates that, by providing wireframes and database schemas to the client, and discussing the design of the project in detail while it is still easy to make changes. When a challenge is encountered during this period, it may be tempting to say, "We will cross that bridge when we get there." The truth is that it will be even more difficult to make changes later, so the earlier difficult problems and analysed and solved, the lower the final cost of the project.
There is a general set of guidelines to solving most design challenges. The first step is to offer at least three alternatives. They can be good or bad, however three alternatives provide a good set of initial ideas from which to find the ideal solution. The next step, if none of the three alternatives will fix the problem, is to research other applications and see the solution which they have chosen. This is the "previous work" analysis, and can provide interesting insights as well as a competitive advantage if your solution is better. Finally, if neither of these methods has found an ideal solution, the last step is to perform a cost-benefit analysis, and see which of the less-than-ideal solutions will work best. It is better to have a working software that performs 95% of the goal, instead of an ideal solution that is never completed.
If you have any questions about a freelance programming project, please feel free to give us a call at 630-855-7522.
Freelance Programming Chicago
Free Software Consultation
We are looking forward to learn more about your project, and provide an innovative solution to your business needs.