Chicago HTML5 Programming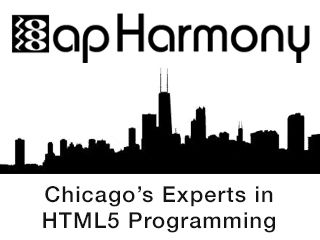 apHarmony has extensive HTML5 development experience, and will be happy to bring our expertise to your next HTML5 programming project.
HTML5 provides a great platform for advanced graphics and effects that will work across a wide variety of browsers and platforms. With the advanced blending and animation capabilities, HTML5 can be used to replace many legacy Flash or Java apps, and is poised to become the de facto standard for the web.
Examples of HTML5 apps include Rich Internet Applications, interactive user interfaces, games, video apps, design and visualization programs, and sales tools. When developing a new web application, HTML5 is the platform to use due to its unanimous support from all major operating systems and platforms, and its capabilities when combined with a JavaScript toolkit such as jQuery.
Generally, there are two types of HTML5 projects based on the target platform – desktop or mobile. Although any well-written HTML5 app will be cross-browser compatible and may feature a responsive design, various user-interface considerations will require the app to be optimized to a particular environment.
For instance, desktop apps will feature a mouse and cursor, and can provide for more precision than just the finger on the mobile app. Mobile apps, on the other hand, will need additional flexibility or perhaps a limited feature set in order to provide the best user experience.
For maximum reach and compatibility, an app may be programmed in both Flash and HTML5. Although both HTML5 and Flash have a similar install base, many older PCs support only Flash, while many newer devices, such as iPads and iPhones, only support HTML5. If a Client can choose only one platform or the other, HTML5 is the most logical choice, as this will provide the best prospects for the future, as even Adobe, the develop of Flash, has declared it has dropped mobile support as of 2012, and is transitioning its tools toward HTML5.
HTML5 will continue to be a great platform for web development. For any questions about an HTML5 programming project, please feel free to contact us at 630-855-7522.
HTML5 Programming Chicago
Free Software Consultation
We are looking forward to learn more about your project, and provide an innovative solution to your business needs.