Chicago Inventory Management Software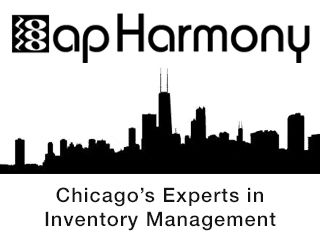 apHarmony offers inventory management software development. Whether you are looking to build a new inventory system, integrate a system with existing software, or maintain and support an inventory application, we will be happy to help with your software project. Please feel free to give us a call at 630-855-7522 for a free evaluation and quote.
Inventory management software can help streamline inventory tracking, manufacturing, and help ensure reliable and on-time delivery of completed products. An effective inventory system can both improve manufacturing efficiency and reduce work-in-progress. When applied to retail applications, inventory management systems can help alert of upcoming stock outages, and help increase order fulfillment.
In mid-sized implementations, inventory management systems are often integrated with EDI to automatically place orders for low-stock products when necessary. Automatic ordering can help to reduce overhead and ensure product is ready when needed. In more complex manufacturing processes, the automatic ordering or order notification may require intelligent scheduling to decide exactly when additional products will be needed. Custom made-to-order products may need to estimate volume based on past history and expected future use, and may need human oversight to ensure correct operation.
In addition to automatic stock notification and ordering, inventory management systems can help confirm inventory levels and ensure that items in stock are not lost. When combined with RFID or NFC technology, inventory management systems enable the database system to know when products pass through certain checkpoints, and record the exact inventory levels in different areas of the plant. Inventory management software can also be implemented for organic or time-limited products, and help reduce spoilage by alerting the sales team of upcoming deadlines.
Successful inventory management system implementation can improve sales, decrease overhead, and often have a measurable and successful near-term return on investment. For a free evaluation and quote on an inventory management software project, please feel free to give us a call at 630-855-7522.
Inventory Management Software Chicago
Free Software Consultation
We are looking forward to learn more about your project, and provide an innovative solution to your business needs.