Chicago Invoicing Software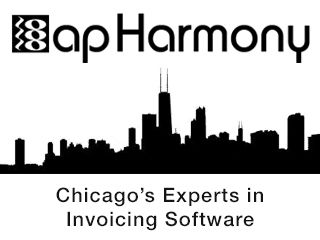 apHarmony offers invoicing software development services. Whether you are looking to build a new invoicing application or add invoicing capability to an existing line-of-business system, we will be happy to bring our team to your software project.
Automated invoicing can help reducing overhead for accounting staff and simplify operations. A well-built system will have checks to ensure that invoices are properly sent, and may also integrate receivables workflow to help automate payment reminders. Through advanced workflow integration, a variety of media can be used for payment reminders, from email, to mail, to scheduled phone calls. Accounting automation can bring reliable and methodical processing of client accounts.
The specific invoicing system will be highly dependent on the type of business, however one of the most challenging businesses to invoice are service-based businesses. In fully hourly based contracts, companies need to account for both employee timesheets and client agreements in every billing period. Invoicing for this type of company will usually consist of two phases. In the first phase, employees will enter their time-based information in the system and mark billables, selecting the class of work from a list. If products are sold, those would also be integrated into the billing and timesheet system. Upon completion of the timesheet, accounting or management would review the data on a regular basis to decide how to correlate the marked billables to actual billed entries. A moderation-based approach will enable one-click conversion of proposed billables to invoiced entries. Upon completion of the process, the invoice can be committed to the database, and processed according to the built-in workflow.
Invoicing systems will often have to integrate with several different packages. The accounting system will need to receive the invoices, as well as synchronize the list of customers and products. The line of business software will need to be integrated to properly export tasks and billable entries into the invoicing component. Often additional workflow and CRM systems will need to be updated, in order to provide notifications or status on long-overdue accounts. Finally, reporting and analytics can provide business insights to increase cash flow or improve customer service.
For a free evaluation and quote on an invoicing software project, please feel free to give us a call at 630-855-7522.
Invoicing Software Chicago
Free Software Consultation
We are looking forward to learn more about your project, and provide an innovative solution to your business needs.