Chicago Legal Software Development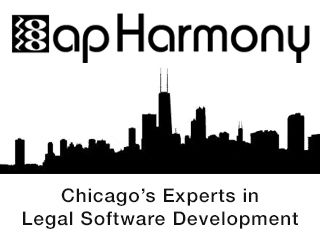 apHarmony offers legal software development. Whether you are looking to build a system for tracking clients and billable hours, organize projects and cases, or automate and improve workflow, we will be happy to bring our team to your software project. Please feel free to give us a call at 630-855-7522 for a free evaluation and quote.
At its core, most legal software revolves around clients and their requirements. Depending on whether the clients are businesses or individuals, the software needs to be structured differently to properly handle the data. Businesses generally have a variety of employees and multiple longer-term engagements, while cases for individuals are primarily focused around organizing data in an easy to read fashion for the duration of the relationship.
Legal software can significantly benefit from advances in lead nurturing and workflow automation. By providing automated emails and acknowledgments at specified intervals in the engagement, the customer can both be kept automatically up-to-date, and tedious or routine overhead can be reduced. Workflow software can automatically either send emails, or integrate with an on-site printer or outsourced print company to send mailings. In addition, workflow can assign tasks and allow management to track project progress from a centralized location. Overdue tasks can automatically trigger an alert, and key stakeholders can be kept abreast of project progress with minimal overhead.
Advanced legal software can also integrate with phone systems, making it easier to dial out to customers through a click-to-dial interface, and improve inbound calls by automatically pulling up relevant customer information once the system sees a call. This can improve productivity by reducing the time spent looking up a record, while at the same time providing more professional service to the customer.
apHarmony will be happy to help you design and develop legal software that will give you an edge over your competition. For a free evaluation and quote, please give us a call at 630-855-7522.
Legal Software Development Chicago
Free Software Consultation
We are looking forward to learn more about your project, and provide an innovative solution to your business needs.