Chicago Mail Merge Programming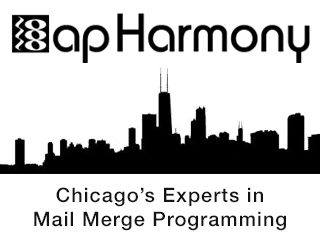 apHarmony offers mail merge programming services. Whether you are looking to merge a Word or Excel document with a database, generate PDFs, or dynamically create labels, we will be happy to bring our team to your software project. Please feel free to give us a call at 630-855-7522 for a free evaluation and quote.
Mail merge software enables processing data from the database into a format for print. Depending on the task requirements, the data may need to be laid out in a precise format, or flow dynamically with the text. Document layout can be absolutely positioned through the PDF format, or encoded through Word or HTML.
Each file format comes with its advantages and disadvantages. PDF documents are generally the most precise, though also the most work to lay out and update. PDF documents can also have printing issues when scaling is automatically enabled by the client viewer. Microsoft Word documents, on the other hand, have a higher level of flexibility at the cost of precision. Word documents can even be afterwards processed by the software to add data or replace variables. Finally, the HTML format provides the highest level of flexibility and lowest development cost, at the cost of document precision and tight control over the printed output.
Another key aspect of mail merge programming is the capability for system users to update the source document. By creating a fully automated mail merge process with variable replacement, users are able to make any changes to the source Word document as necessary, without requiring programmers to make the change. This helps to both reduce development costs and decrease the time-to-market for revisions.
With new advances in API integration, companies can now even automatically send jobs to print services. Print companies can accept jobs through the Internet, and out sourcing printing can help to increase the scope of print capabilities and can often decrease costs.
When processing large batches of contacts, data validation and verification is absolutely critical. Errors in printing can debase the company brand and erode customer confidence. In extreme cases, it could even lead to a lawsuit. A thorough evaluation and data validation is necessary at multiple points in the development pipeline, from initial review, to per-printing verification, to final approval of hard copy before the items are mailed.
For a free evaluation and quote on a mail merge programming project, please feel free to give us a call at 630-855-7522.
Mail Merge Programming Chicago
Free Software Consultation
We are looking forward to learn more about your project, and provide an innovative solution to your business needs.