Chicago Medical Software Development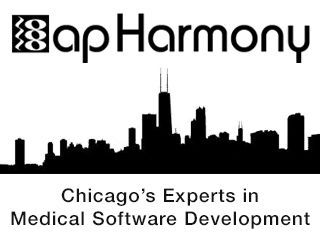 apHarmony offers medical software development services. Whether you are looking to make modifications to existing medical software, build a new app, ensure regulatory compliance, or integrate with medical devices, we will be happy to bring our team to your software project. Please feel free to give us a call at 630-855-7522 for a free evaluation and quote.
Whether creating a new application or modifying existing software, one of the key challenges to a successful software project is gathering design and development requirements from existing stakeholders. With subject matter specialists from various branches of the company, each member of the team often provides critical information that must be incorporated into the project. The software development cycle needs to provide feedback cycles so that relevant requirements are integrated into the software, as early on in the project as possible to reduce revisions and rework.
Medical software differentiates itself from other branches of software with its strict regulatory and legal requirements. With regulations such as HIPAA dictating physical and electronic data security requirements, applications must be designed to ensure patient data security. Sensitive data such as social security numbers should be encrypted, to reduce the scale of the breach in case the server is compromised. In addition, user accounts should be enforced with roles and password policies, to make sure that each user has an individual account instead of a shared group account. Audit logs should also be integrated into the software, so that changes to data can be monitored and tracked to an individual user. In addition to the electronic data security, clients should also have policies in place for physical security of the servers, making sure they are in a room with restricted access, and with appropriate firewalls and network security devices in place.
For a free evaluation and quote on a medical software development project, please feel free to give us a call at 630-855-7522.
Medical Software Development Chicago
Free Software Consultation
We are looking forward to learn more about your project, and provide an innovative solution to your business needs.