Chicago Microsoft Access Programming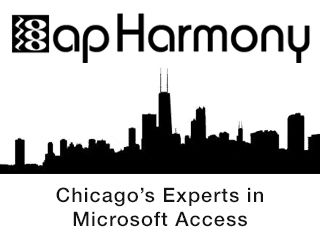 apHarmony offers Microsoft Access software development services. Whether you are looking to build a new Microsoft Access application, extend an existing application, or fix errors or bugs in a production system, we will be happy to bring our team to your software project. Please feel free to give us a call at 630-855-7522 for a free evaluation and quote.
Since its debut, Microsoft Access has offered businesses a simple and effective platform for line-of-business application development. With its rapid application development philosophy, the software enables much faster development time than using traditional methods. With the additional ability to integrate with SQL Server, Microsoft Access is a formidable platform for the development of straightforward line-of-business applications.
The primary key to a successful Access application is a well-structured database. This can often be at odds, however, with the agile design principles offered by Access. The easy of database changes can result in an application that quickly outgrows its roots and becomes unmanageable. As a result, it is critical to re-evaluation the database at regular intervals in the development and normalize aspects that have outgrown their initial design.
As with any rapid application development tool, 80% of the development is done very easily, while the final 20% of customizations are often more challenging in the RAD environment. As a result, it is critical to choose a development partner with extensive Access experience in customizing the environment to the target use case. It is often necessary to leverage the VBA backend to perform advanced customizations, such as row-level drop-down dependencies and conditional stored-procedure business logic. Some specific customizations may even introduce enough instability in the system that they should be avoided altogether in favor of an alternative method. An experienced Access developer will be able to guide the project through the potential challenges and produce a successful and maintainable final product.
For a free evaluation and quote on a Microsoft Access software development project, please feel free to give us a call at 630-855-7522.
Microsoft Access Programming Chicago
Free Software Consultation
We are looking forward to learn more about your project, and provide an innovative solution to your business needs.