Chicago Microsoft Azure Development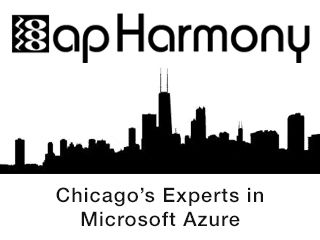 apHarmony offers Microsoft Azure software development services. Whether you are looking to build a new cloud-hosted application based on Microsoft Azure, leverage both public and private services for a hybrid cloud, or maintain and support existing Azure applications, we will be happy to bring our team to your software project. Please feel free to call 630-855-7522 for a free evaluation and quote.
Cloud hosting brings two primary benefits to enterprise applications: scalability and deployment flexibility. Without requiring a local administrative infrastructure, applications can be quickly deployed and scaled in MVP-type projects until the need arises for a fully managed administrative stack. In addition to providing simple scalability for web applications, cloud hosting can help extend an existing infrastructure for redundancy and improved speed. Instead of requiring an organization to create a completely new data center for fault tolerance and reliability, the backup or load-balanced infrastructure can be placed in the cloud. This enabled cost-effective ramp-up and high speed fail-over for even large scale applications with significant user base.
One of the challenges with the system architecture or cloud applications is synchronization with line of business systems. Since the public cloud infrastructure must necessarily be isolated in a DMZ, cloud applications must use REST or service-based interfaces to synchronization relevant information. The most secure technique is to originate the synchronization request from behind the corporate network, and upload the data to the line of business system through another interface. If that scenario is not possible, a secured VPN could be used for direct server access. The primary drawback of a secured VPN is the opportunity for bidirectional traffic, which might unknowingly compromise the firewalled machine.
For a free evaluation and quote on a Microsoft Azure software development project, please call 630-855-7522.
Microsoft Azure Development Chicago
Free Software Consultation
We are looking forward to learn more about your project, and provide an innovative solution to your business needs.