Chicago Online Order Entry Software Development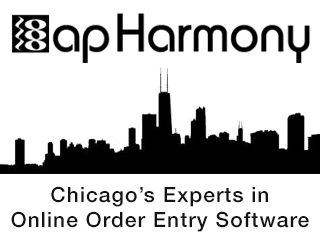 Extending online order entry capability to customers and salespeople can help increase sales and land higher-end dealers and customers. We will be happy to bring our extensive online order entry software development experience to your business. Please feel free to give us a call at 630-855-7522 for a free consultation.
Online order entry software has two primary purposes – to provide customers with a way to enter orders online, and to allow customers to quickly look up their order status. By creating software that encompasses these functions, staff can be freed up to perform more productive tasks, and order entry errors will be reduced.
Often, a successful custom online order entry software project requires integration with existing production software. Whether it is a manufacturing system, dealer software, or supply chain software, the system will need to transfer data and communicate with an API or directly to the database. This requires collaboration with other software providers, or an automated interface to the existing system.
For more advanced implementations, automated report generation can provide customers with detailed information on their purchasing or outstanding receivables. Email can be integrated to provide updates and notices of payment due. Even prints and mailings can be automated and sent to clients at designated times.
These features reduce the load on existing departments and improve both receivables and customer service. They also make sure that business processes are reliably followed, and that each custom receives an excellent experience.
In addition to customer-facing apps, online order entry can be an effective tool for a distributed or outside sales force. Salespeople can enter orders directly from a customer site, and reduce the required paperwork. In addition, product visualization can give the customer and salesperson a visual representation of their order to help minimize mistakes.
Online order entry software is the next natural evolutionary step in most systems, and often provides straightforward benefits and quick return on investment. Please give us a call at 630-855-7522 to learn more about bringing online order entry to your suite of products and services.
Online Order Entry Software Development Chicago
Free Software Consultation
We are looking forward to learn more about your project, and provide an innovative solution to your business needs.