Chicago Operations Management Software Development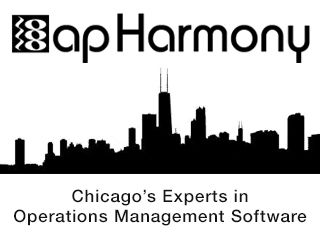 apHarmony offers operations management software development services. Whether you are looking to build software for forecasting, scheduling, analysis, project management, or quality control, we will be happy to bring our team to your software project. Please feel free to give us a call at 630-855-7522 for a free evaluation and quote.
The primary focus of operations management software is improving the allocation of resources to increase profit or better meet customer goals. An effective operations management system will incorporate both optimization and data analysis tools to help both effectively schedule resources and find areas for future performance improvement. The fundamental concept behind operations management is thorough documentation of the existing environment, and making sure that technology and processes such as barcoding and reviews are being following to keep the system up-to-date. With the proper data in the system, management can then run reports and perform analysis to see how resources are being used across the organization.
Regardless of the scope of the project, a successful operations management project requires strong commitment from the client and availability for key phases of the project, from initial data gathering and requirements analysis, through implementation and training. Although implementation of industry best practices can help to improve operations, it's also crucial to keep current competitive advantages through implementation of the system. As such, subject matter experts on the client side are as necessary as business analysts from the developer to reap full utilization of the new software.
Once the software has been built, the final phase before launch is acceptance testing and configuration. Although it's tempting to overlook this phase, it's vital that client stakeholders understand the importance of this phase to a successful launch of the software. Changes during the acceptance testing phase are easy to make, since the system is not yet live, while changes during production are much more difficult. All reports should be verified for accuracy and critical information, and department liaisons should input all necessary information and review the software for accuracy through scenario-based testing. Once all stakeholders have verified correct functioning of the software, it will be taken live.
For a free evaluation and quote on an operations management software development project, please feel free to give us a call at 630-855-7522.
Operations Management Software Development Chicago
Free Software Consultation
We are looking forward to learn more about your project, and provide an innovative solution to your business needs.