Chicago Optimization Software Development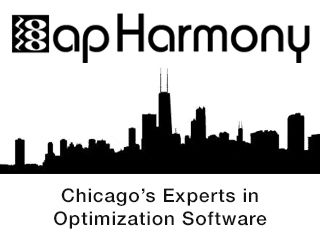 apHamony offers optimization software development services. Whether you are looking to integrate optimization into an existing application, create a new tool for optimization, or fix existing software, we will be happy to bring our team to your software project.
With the variety of optimization algorithms available, the first step in optimization application development is reviewing the nature of the problem and existing industry solutions. This research phase can involve review of published articles in scientific journals, analysis of existing software, and industry best practices. It is also necessary to analyze existing systems and available data, since more complex optimization algorithms also often require additional data to execute.
While optimization can provide significant reduction in overhead, productivity improvement, and a direct return on investment, it is important to keep in mind that half of the task is often implementation. A great algorithm will not work on its own, it requires policies and procedures in place to ensure that it is followed. Optimization software often requires following a certain workflow and continually adding operations data to the system so that the algorithm dynamically adapts to the business.
While the most popular optimization algorithms for manufacturing are based on linear optimization and integral optimization due to their good fit for many problems, artificial intelligence and neural networks are increasing in popularity in certain applications. As processors and becoming more multi-threaded and powerful, and ubiquitous computing is making its way into the plant, the data is becoming available to dynamically learn and adapt from the workflow to create new and unexpected improvements in performance. While artificial intelligence has often historically been ahead of itself in many industries, the hardware is finally catching up to the algorithms and systems to produce truly effective results.
For a free evaluation and quote on optimization software development, please feel free to give us a call at 630-855-7522.
Optimization Software Development Chicago
Free Software Consultation
We are looking forward to learn more about your project, and provide an innovative solution to your business needs.