Chicago Payment Processor Integration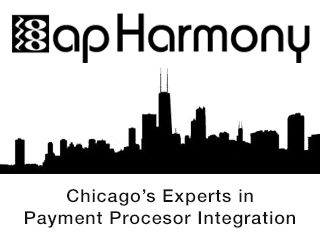 apHarmony offers payment processor integration services. Whether you are looking to bring payment processing to a web application or online store, or need to make changes to an existing application, we will be happy to bring our development team to your project. Please feel free to give us a call at 630-855-7522 for a free evaluation and quote.
Payment processing applications can range from simple one-page applications that collect name and credit card, to complex multi-level apps that combine merchant, customers, recurring payments, and order fulfillment. With the large variety of business models that Ecommerce has enabled, each unique model must be developed and supported through software.
There are three general types of credit card payment mechanism. The most simple is Direct Capture, where the payment is immediately credited from the customer's credit card account. In some situations, merchants may perform an Authorization – where the payment is not actually placed, rather it is validated and kept waiting until the order is fulfilled. Finally, for service delivery, payment gateways offer recurring payments that are paid on a weekly, monthly, or annual basis.
When procuring a payment processor, it's important to understand the terminology and division of services that enable credit card processing. At the back-end, each transaction must be sent to a business checking account. A "merchant account" enables credit card payments to be sent to a back account – the merchant account functions are a receiver of credit card transactions, whether they are sent online, or through physical terminal devices. Finally, a payment gateway connects the online store or web application to the merchant account, by accepting online payments and forwarding them to the merchant account.
The merchant account is often provided by the bank, though other companies also offer this service. The payment gateways that link the merchant accounts to the web are primarily provided by Authorize.Net, however lesser-known payment gateways may be used by some merchant account providers. When integrating with a third-tier payment gateway, it's especially important to verify the security and stability of the gateway, as they have often not faced the same regulatory scrutiny and rigorous review as the more prevalent gateways.
For a free evaluation and quote on a payment processor integration project, please feel free to give us a call at 630-855-7522.
Payment Processor Integration Chicago
Free Software Consultation
We are looking forward to learn more about your project, and provide an innovative solution to your business needs.