Chicago Production Software Development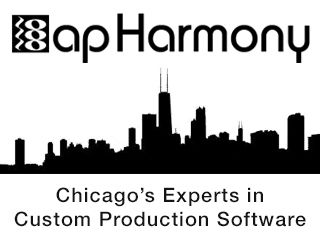 apHarmony offers production software development services. Whether you are looking to build software to power your manufacturing operations, organize warehousing and shipping, or streamline order entry, we will be happy to bring our team to your software project. Please feel free to give us a call at 630-855-7522 for a free evaluation and quote.
Production software is a crucial element of a successful manufacturing operation. Although smaller manufacturing operations can exist without software to power the operations, as orders come in and the volume starts to increase, a company without an effective production system will suffer from mistakes and disorganization that results from the lack of a comprehensive system. By implementing basic inventory and order production tracking techniques like barcoding, scanning, and completions, to more advanced development such as production-line machine integration, operations can be improved to provide instant order status, reduce waste, and improve scheduling.
In addition to streamlining production operations, an effective end-to-end system can also organize warehousing and shipping. By barcoding and scanning orders, shipping personnel can make sure that orders are never mixed up, and that customers receive all components of their order. A warehousing system can also display the location of a particular item to reduce delays in large warehouses. By implementing machine-learning algorithms, orders can be located in areas to maximize speed of the shipping department and reduce physical traverse across the building.
Finally, one of the key components of a successful manufacturing software is the order entry and customer service. Order entry can provide conditions checking to make sure that no orders are taken incorrectly, along with automated emails and status updates for orders-in-progress. For customers with dealers or custom pricing, a pricing engine can both implement various pricing configurations, as well as provide flexibility for complex item negotiation with dealers.
For a free evaluation and quote on a production system, please feel free to give us a call at 630-855-7522.
Production Software Development Chicago
Free Software Consultation
We are looking forward to learn more about your project, and provide an innovative solution to your business needs.