Chicago Project Management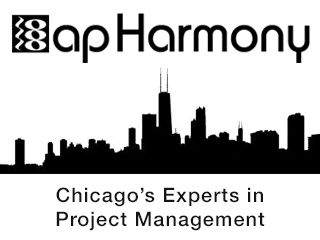 apHarmony offers software development project management services. Whether you are looking to build a new software application, enhance an existing application, or maintain and support a system, we will be happy to bring our team to your software project. Please feel free to give us a call at 630-855-7522.
Software development projects require a thorough and well planned process for completion on-time and on-budget. As project requirements adapt during the course of development, a central, skilled project manager is often necessary to ensure that the project stays on track and is completed successfully. With the high failure rate of software projects, an experienced project manager can help make sure that the project is indeed completed successfully, and achieves the goals that were set out for the system.
Two of the key challenges during project development are engineering concerns and changes / evolution of business requirements. Engineering concerns require a pragmatic approach, and can often be either surmounted or achieved in a different way. Business requirements, on the other hand, require a delicate approach in both the social and logical spheres. As motivation behind requirements can be both profit-focused and politically-motivated, it is important to separate the two concerns and choose the path that is best for the organization as a whole. A team focus and organized decision making process can help make sure that a project stays on track throughout the development.
In addition to the development itself, project management extends throughout the full lifecycle of the application. From deployment, to maintenance and support, an efficient and well-designed workflow can improve system ROI and user productivity. As the business adapts to market conditions, it is also often necessary to update software. Changes in technology can also often be adapted to existing software and help extend the life of an application.
For a free evaluation on a software development project management engagement, please feel free to give us a call at 630-855-7522.
Project Management Chicago
Free Software Consultation
We are looking forward to learn more about your project, and provide an innovative solution to your business needs.