Chicago Reporting Developers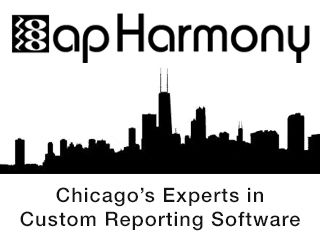 When using an existing line-of-business application, it is often necessary to create custom reports to view data in a certain way, or gain key business insights. apHarmony will be happy to bring our team of report developers to your custom reporting project. Please feel free to give us a call at 630-855-7522 for a free consultation.
There are generally three types of report development projects – those that can be built using existing tools within the software, those that require building an external interface, and those that require advanced techniques such as data extraction or scalable big data analysis.
Extending existing software with custom reports is commonly required in order to review data in a certain way, analyze financial, sales or marketing information, or provide KPIs for executive management. If the software has a report designer built-in, and the necessary flexibility, the reports can be developed within the context of the platform. In other circumstances, if the database is open and accessible, the reports can be developed outside of the software by using a relational database connection.
In more complex scenarios, data may need to be merged between two different applications. For instance, a line-of-business application might handle customer and project data, while a financial application might have the actual dollar values of those projects. In order to merge the two data sources into one report, it is necessary to access both databases and combine the data in a staging area.
Finally, big data provides its own set of challenges. While working with various data streams is common in big data, the primary challenge is scalability of the application. With large data streams, query optimization is a focal point during development, as well as a robust infrastructure for both processing and analyzing the information. Security may also be paramount if sensitive data is required for the reporting.
For a free evaluation of a report development project, please feel free to give us a call at 630-855-7522.
Reporting Developers Chicago
Free Software Consultation
We are looking forward to learn more about your project, and provide an innovative solution to your business needs.