Chicago Server Automation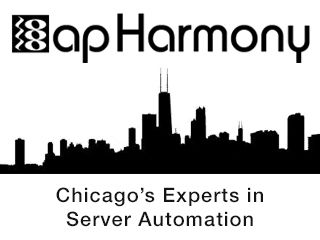 apHarmony offers server automation programming services. Whether you are looking to automate a repetitive deployment task, create server-side process automation, or maintain and support existing software, we will be happy to bring our team to your software project. Please feel free to give us a call at 630-855-7522 for a free evaluation and quote.
Server automation is often an opportunity to increase productivity and utilize the software to build tools that bring more power to their users. The most straightforward of these projects are deployment-assistance systems, using to create either an instance of a target client machine configuration, or to deploy a new folder or application instance onto the server. Creating a streamlined deployment system can help free up the sysadmin for more important tasks, and provide faster and easier response for new user setups. Deployment projects often have straightforward goals, automating a systematic and repetitive process.
Server-side process automation, on the other hand, is often a more complex task that will involve business requirements and a user interface. While simple process automation projects can focus solely on one task, it can often be beneficial to create an interface that might extend the system to bring even more capability to the users. For instance, if users currently need to go through a request process to produce a certain type of report, an automated system could generate the report on an as-needed basis. Extending the system further, however, could give the user configurable parameters and the ability to drill down and learn more details about the underlying data. This could lead to key business insights and competitive advantage. At the least, a more flexible underlying configuration could reduce maintenance work down the road and make it easier to add more functionality in the future.
For a free evaluation and quote on a server automation project, please give us a call at 630-855-7522.
Server Automation Chicago
Free Software Consultation
We are looking forward to learn more about your project, and provide an innovative solution to your business needs.