Chicago Software Design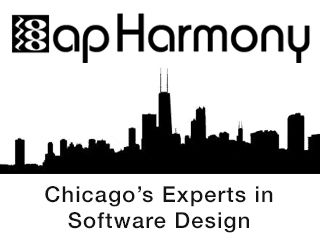 apHarmony will be happy to bring our Software Design experience to your next project. Our team of architects, user interface designers, graphic designers, and developers, will provide the talent necessary to ensure the success of your mobile or desktop software development project.
Software design is a multifaceted field which requires a variety of specializations to execute successfully. At the beginning of the project, an experienced software architect is necessary to analyze the business goals and provide innovative solutions to your problems. A small change in the software at this point could reap significant dividends in return on investment and achievement of corollary objectives.
Once the scope of the software is complete, the graphic and user interface designers create the wireframes and mockups that will translate into the final product. If the project branding and design is straightforward, the graphic designer may not be necessary, and most of the work can be accomplished by a good UI designer. The UI designer will make sure the software will be easy to use, reducing training costs and maximizing the benefits that will be achieved by the program.
Once the design is complete, the developers will start coding the application. Depending on the size of the project, this will usually take from a few weeks to a few months. Check-points and milestones may be scheduled to make sure the software is working as specified and the client is happy with the result.
Once the project is complete, the developers will work on deploying the software to its final location, whether on a production server or, in the case of a mobile app, the App Store. At this point, the project enters the maintenance and support phase, where the developers are available to answer questions and fix issues that occur as the client starts using the software.
If you have any questions about Software Design, please feel free to give us a call at 630-855-7522. We will be happy to help on your next software development project.
Software Design Chicago
Free Software Consultation
We are looking forward to learn more about your project, and provide an innovative solution to your business needs.