Chicago Software Development User Interface Design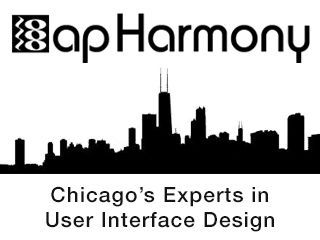 apHarmony has extensive experience in User Interface design for web, mobile, and desktop applications. With a portfolio of applications ranging from simple apps to full-featured line of business applications, we will be happy to bring our team of designers and developers to your next digital project.
The distinguishing feature of user interface design is its combination of art and science. Although every user can appreciate a good interface, it is often difficult to describe what sets it apart, besides results-based statements such as, "it saves me time," and "I can easily find what I'm looking for." An effective user interface will not just result in productivity increases, it will also significantly increase employee capabilities by enabling them to take advantage of tools they previously did not use.
Every good user interface starts with an analysis of current software and capabilities. This includes the software currently used by the company, and other competitor software that is available. Each software must them be critically analyzed, to review what works well, what doesn't work, and what needs to be improved. Particular attention to detail must be paid to segments of the software that should be used, but are not. These are the most fertile areas for improvement that will reap dividends once the new software is published.
As many employees spend most of their day using line-of-business applications, the software interface doesn't just enable them to work – it also sets the brand and culture of the company. A good user interface will reinforce the primary goals and purpose of the company, and keep the company mission front-and-center throughout both the design and functionality of the software.
Of course, a central component of the interface is also to organize the data and integrate well with the database. A strong technical background is required to develop good interfaces, as well as a creative approach in order to push the boundaries of existing software.
For a free consultation on user interface development for your next digital project, please give us a call at 630-855-7522.
Software Development User Interface Design Chicago
Free Software Consultation
We are looking forward to learn more about your project, and provide an innovative solution to your business needs.