Chicago Software Development Wireframing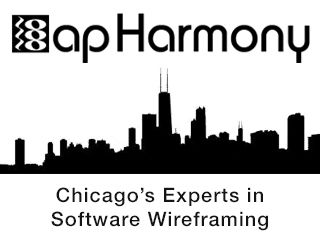 When developing wireframes for your software project, it's important to work with a software development partner who knows the capabilities and limitations of the target platform and framework. apHarmony will be happy to bring our extensive software architecture and user interface design experience to your next project. Please feel free to give us a call at 630-855-7522 for a free consultation.
Software wireframing is primarily concerned with brainstorming the full functionality of the software, and putting those ideas on paper. The key project stakeholders need to be rallied together on important software points, and make sure that all relevant business cases are satisfied with the wireframes. More than any other phase of the project, wireframing offers the opportunity for collaboration, brainstorming, and innovation.
In order to host an effective wireframing / brainstorming session, it's first necessary to create a framework or rough draft for the discussion. The source material for this will generally be based on the discovery session, combined with the architect's intuition about the proper functioning of the software. Once this is developed, it should be presented to the clients and key stakeholders for feedback. At this point, not every component needs to be completed, or every question answered, however it should be developed as far as possible based on the initial discussion. It is often useful to update a parallel sheet of client questions to ask while developing the initial wireframes.
The wireframes should also be reviewed by the development lead, to make sure that they will work well within the target platform and framework. Some features might be difficult to implement, so workarounds should be suggested for those areas. If the client specifically requested a particular user interface layout, it might be a good idea to present both costs and give them the chance to evaluate which scenario will offer the greatest return on investment.
Please feel free to give us a call at 630-855-7522 for a free consultation on a software development wireframing project.
Software Development Wireframing Chicago
Free Software Consultation
We are looking forward to learn more about your project, and provide an innovative solution to your business needs.