Chicago Software Integration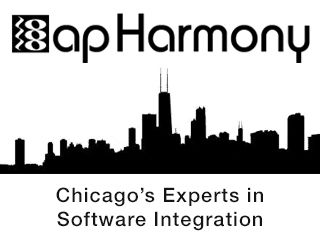 apHarmony offers software integration services for business software. We will be happy to bring our extensive expertise in software integration your next project. Please feel free to give us a call at 630-855-7522 for a free consultation.
Software integration is generally concerned with bringing the capabilities of an existing application, such as an accounting system, to a line-of-business application, such as manufacturing software or a custom-developed package. The complexity of an integration project is generally determined by the structure and amount of data that needs to be synchronized between the two systems, and the difficulty in directly accessing that data in each respective database.
A well-built API interface can significantly help in a software integration project. APIs are methods exposed by developers in proprietary systems that enable other programmers to perform operations in a structured way. A good API will expose most of the core functionality of the software, while a limited API will require workaround to make the software work properly.
While the ideal situation for an integration project is a fully-open database and well-documented program operation, it is sometimes required to use advanced techniques such as automation to perform the necessary actions. Software automation works directly with the desktop environment, and simulates all the mouse clicks and keyboard entries through the OS subsystem. In completely closed and encrypted systems, this technique can be used to export necessary data through the software interface, and the data can then be analyzed and manipulated externally.
In addition, software automation can be used in the data import process, to enter information directly in to the existing software interface. This can be useful in situations where significant business logic lies in the data entry process, and leveraging the existing interface can simplify the software development.
Of course, the scope of the project and techniques vary depending on the particular implementation. For a free quote on a software integration project, please feel free to give us a call at 630-855-7522.
Software Integration Chicago
Free Software Consultation
We are looking forward to learn more about your project, and provide an innovative solution to your business needs.