Chicago Statistical Software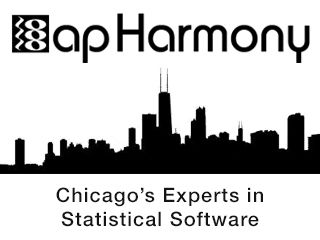 apHarmony offers statistical software development. Whether you are looking to build a custom analysis engine for existing data, or build a tool to enable statistical data analysis, we will be happy to bring our team to your software project. Please feel free to give us a call at 630-855-7522 for a free evaluation and quote.
Statistical software can be used for both data analysis for business intelligence applications. Custom statistical software systems are generally focused around a particular application, either to create a customized workflow for productivity improvement and automation, or to deliver more complex visualizations or numerical analysis than can be provided by existing off-the-shelf systems. While the systems may be geared toward a particular application, it is often beneficial to create tools that will scale with the users' future needs. Data analysis systems can especially benefit from custom compilers, or development of a meta-language that will help enable fine-tuning of formulas or parameters.
In other instances, it may be possible to meet system requirements through integration with an existing statistical package. This may require extracting information from the source database and packaging it in a format for the desired statistical software, or a higher-level integration may be developed. For systems that analyze data in real-time, stream processing is necessary to ensure that the latest data is provided for analysis. Other challenges in data analysis may be from "big data", or the analysis of data that spans several clusters or systems. Tools such as Hadoop provide the first layer for data access, however they can be challenging for users to interface with directly. Middle-ware is often helpful in filtering and exporting data from the archive into a more manageable format.
For a free evaluation and quote on a statistical software project, please feel free to give us a call at 630-855-7522.
Statistical Software Chicago
Free Software Consultation
We are looking forward to learn more about your project, and provide an innovative solution to your business needs.