Chicago System Integration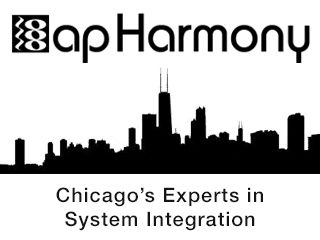 apHarmony offers system integration services. Whether you are looking to enable communication between disparate applications, extend the capabilities of a software package through an additional component, or developing advanced reporting and data mining across multiple databases, we will be happy to bring our team to your software project. Please feel free to give us a call at 630-855-7522 for a free evaluation and quote.
After a successful software implementation, there are often certain features or advanced capabilities left out due to implementation challenges. Data sources might not communicate properly, and it may be a challenge to change hierarchical data into a flat file and vice versa. Although perfect solutions may not always exist, it's often possible to create a result that provides the information necessary to leverage the advanced capability and gain a competitive edge. A system integration project will often pay for itself in the return on investment generated by the enhanced data and reporting.
In most system integration projects, the database is available either through a direct interface or through file export. Although certain situations may exist where the data is locked down, it is usually possible to work around this through API access, or in operating system automation. Once the data has been exported from the source system, it will need to be modified and properly imported into the destination. Ideally this will be done through functions or a programming interface available in the software, so that all outliers and business logic are properly handled. If this is not available, it is possible to upload information directly into the target database, or input the data again through operating system automation.
In addition to providing more advanced reports and better insight into business function, system integration can also help reduce double-entry and improve employee productivity. For a free quote on an integration software project, please feel free to give us a call at 630-855-7522 for a free evaluation and quote.
System Integration Chicago
Free Software Consultation
We are looking forward to learn more about your project, and provide an innovative solution to your business needs.