Chicago Warehousing and Shipping Software Development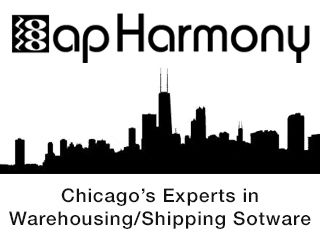 apHarmony offers warehousing and shipping software development. Whether you are looking to improve productivity of distribution logistics, integrate a warehousing system with an ERP, or build a custom warehousing or shipping solution, we will be happy to bring our team to your software project. Please feel free to give us a call at 630-855-7522 for a free evaluation and quote.
When processing large or complex inventory, the warehousing and shipping system can be a ripe opportunity for organizational performance improvement. From the technology used to help simplify picking and packing, to organizational methodology and techniques, to intelligent optimization algorithms, warehousing can turn from a cost center into a model of efficiency for the organization.
Barcoding and scanning technology has been used by warehouses for quite some time to simplify item picking, send immediate status updates throughout the ERP / MRP, and help improve utilization of the storage space. For instance, by optimizing location of order items, picker travel distance can be reduced and department productivity can easily be improved. Alternatively, algorithms can help optimize the items in wave picking, to help minimize the travel distance of an order selector, or improve cube use. Even advanced algorithms can be implemented to help increase part spacing and minimize shipping damage.
One of the newer technologies making its way throughout warehousing and shipping departments is RFID or near field communication (NFC). As an alternative to barcoding, smart RFID tags can project their location information and store more information than traditionally available in a barcode. In addition, these tags often provide better communication with AVGs (automated guided vehicles) in mobile robotic fulfillment systems.
Once an order has been picked and packed, the final step before shipping is manifest generation and status updates. A fully integrated shipping system can help both improve customer service through more accurate order updates, and provide better communication throughout the company.
For a free evaluation and quote on a warehousing or shipping software development project, please feel free to give us a call at 630-855-7522.
Warehousing and Shipping Software Development Chicago
Free Software Consultation
We are looking forward to learn more about your project, and provide an innovative solution to your business needs.