Chicago WinRT Software Development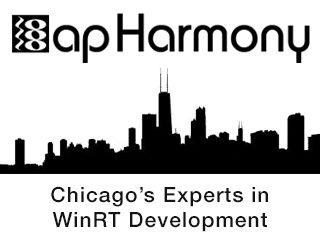 apHarmony offers WinRT software development services. Whether you are looking to build a new WinRT software application or maintain or enhance an existing WinRT application, we will be happy to help with your next software project. Please feel free to give us a call at 630-855-7522 for a free consultation.
The WinRT platform, also known as Windows Runtime, is the new development platform that was released together with Windows 8. The platform is a lower-level extension of the .Net framework, and utilizes the C++/CX language for most of the heavy lifting.
WinRT can be targeted for both desktop and mobile applications, with a limited subset of features available on the Windows Phone Runtime version of the platform. This enables the same core functionality of the application to be shared on both the desktop and mobile versions, while adjusting the user interface for the device resolution. Although advanced functionality such as intensive graphics are not supported on the phone runtime, most basic line-of-business applications should have little trouble adapting to the ecosystem.
The most exciting feature of WinRT is its integration with the Windows Store. The Store enables apps to be sold and distributed through the Microsoft app platform, and enables customers to purchase apps without requiring a complicated distribution system. In addition, Windows Store exposes apps to a growing user base, and acts as a marketing and branding platform for new products.
As the new primary platform for Windows development, WinRT is an excellent choice for new applications, as it will continue to be supported in the long-term. With the phasing out of WPF, WinRT will become the new paradigm for software development on the Windows desktop and mobile platforms.
For a free quote on a WinRT software development project, please feel free to give us a call at 630-855-7522.
WinRT Software Development Chicago
Free Software Consultation
We are looking forward to learn more about your project, and provide an innovative solution to your business needs.