Chicago Business Programming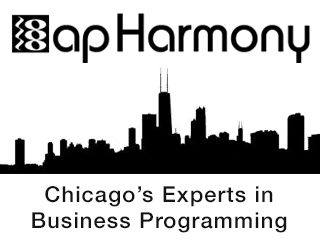 apHarmony will be happy to work with your team to develop business software. We have developed a variety of applications, from small apps to improve productivity or track usage, to large line-of-business applications that organize and systematize processes across the entire organization.
Most business programming projects start out with a needs assessment. We meet with your team and learn more about your requirements. We discuss possible solutions, and see what will be the easiest way to reach your goals.
Once we start the project, we hold a kickoff meeting. We bring our extensive experience to the table, and make recommendations as to the most effective way to implement the project. We might find additional ways to accomplish your goals, and discuss if those ideas will be a good fit. If the project is in its initial design phases, we might have a brainstorming meeting, where we research a variety of other industries and competitors, see what is working and what isn't working, and push ourselves to outpace existing solutions and your competitors with new and exciting ideas. The initial design and brainstorming phase is usually the most exciting part of the project.
Once requirements are formalized, we start development. Working iteratively, we often bring the client together on meetings, to review the database, review the interface, and make sure the software is achieving the specifications. Our team works hard to not just meet, but exceed the initial expectations – as we want to ensure a successful and productive long-term relationship.
Ultimately, the success of the business programming project is judged a few months after deployment. With most business software, although the initial goals are improving productivity and increasing sales, the biggest dividends are reaped further down the line. With a good software, the company is able to expand its operations and grow much faster than it could previously. A good software scales together with the company, and will not need to be replaced for at least seven to ten years down the line.
When choosing a company, the key aspects to look for are attention and passion. Will they bring new ideas to the table? Will they have an active interest in developing the software? Will they give you the attention you need to make the project a success?
For more questions about business programming, please feel free to give us a call at 630-855-7522. We will be happy to discuss your project and see what it will take to accomplish your goals.
Business Programming Chicago
Free Software Consultation
We are looking forward to learn more about your project, and provide an innovative solution to your business needs.