Looking for 3D Development?
If you have any questions about a 3D programming project, we will be happy to discuss:
3D programming has been pushing the boundaries of digital media since 1976, when the first 3D computer graphics were used in the science fiction film Futureworld. Since then, 3D programming has developed from an art form into a powerful tool used by businesses to increase sales, improve employee performance, and analyze complex data. 3D Programming has potentially disruptive capabilities through its five major implementations: Product Visualization, Augmented Reality, Training, Sales Tools, and Data Visualization.

Product Visualization
One of the most popular business uses of 3D programming is product visualization, where developers create a 3D showcase that helps the sales team increase sales. The virtual showroom has four main benefits over a physical showroom:
Lower Cost: If the product has several different options, it is often much cheaper to model all the combinations in 3D, than to create gigantic sales kits with every combination
Convenience: A virtual showroom can be installed on a tablet or laptop, and brought directly to the customer
Engagement: 3D product visualization, if done well, can create a much stronger emotional bond with prospective customers, leading to increased sales
Reduce Objections: A good visualization provides the customer with less ambiguity, and a good idea of how the final product will work. The reduced ambiguity gives potential customers more confidence in making their buying decision.
3D product visualization has been used across a wide variety of industries, from manufacturing to fashion. H&M even made headlines in 2011, when it was discovered that they had been using virtual lingerie models for the past several years, without anyone noticing.
Augmented Reality
The most exciting and expanding field of 3D programming right now is augmented reality. These applications combine real life and virtual life, for a fully immersive experience.
The most well-known example of augmented reality is Google Glass, where users put on a pair of glasses that display hints and suggestions as they go through the day.  For example, when the glasses see that the person is looking at a car, they may suggest websites about the car, or show dealerships nearby where the car can be purchased.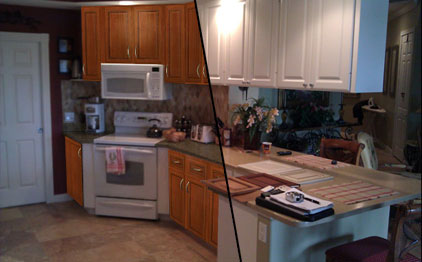 Another exciting application of augmented reality is sales tools for home improvement products. apHarmony recently finished a project for Home Depot, where salespeople for kitchen remodeling services can take a photo of a customer's kitchen, and create a photo-realistic image of how it will look with new cabinets and countertops.
Training Materials
As technology advances, people need to learn increasingly specialized skills. 3D programming gives a unique solution to the problem, with immersive training software that can teach new employees anything from sales techniques to flying an airplane.
In the beginning, 3D training software was specialized to high-stakes jobs, where a small mistake could kill hundreds of people, or lose hundreds of millions of dollars. 3D software is used by airplane pilots to learn how to handle planes in difficult situations, and oil tanker captains to prevent accidents like the Exxon Valdez spill in Prince Williams Sound.
As the cost of 3D training software goes down, and the quality of the software gets better, 3D simulation software is used for more and more skills. Car software salespeople use 3D simulations to learn how to work with customers. Golf students use 3D education software to learn the perfect swing. Using a camera and motion detector like the Microsoft Kinect can create even more exciting uses, like rehabilitation training for stroke victims.
Sales Tools & Product Demos
When a product needs to wow prospective customers, 3D programming can be the perfect way to make that happen. Salespeople need an exciting demo for appointments and trade shows, and a 3D demo is a great tool to get customers excited about a new product.
For example, apHarmony recently built a 3D demo for Grayhill, a manufacturer of touchpads, joysticks, and other devices. The demo lets users explore a 3D human brain using Grayhill controls, and in the process, gets engineers excited about new applications of their own.
Websites are also a great place for interactive 3D sales tools. 3D games can be a fun way to engage customers and get their contact information. 3D videos can explain complex ideas quickly, and let customers know what is unique and better about the product. And most importantly, a good 3D web app also increases referrals – giving customers something interesting to share with their friends.
Data Visualization
From a scientific and data analysis perspective, 3D programming can visualize complex data and recognize exciting new patterns in big data sets. Each year, several hundred million dollars are spent on researching new ways to visualize big data sets. The most popular 3D data visualization techniques are 3D data modeling, 3D geographic visualization, and 3D spatial charts.
The most basic 3D data visualization is 3D data modeling. This can be very useful for technicians, engineers, and in the medical field. For example, support technicians can be shown a 3D diagram of a machine, and outline the problem part in red. In the medical field, computers can take an MRI scan and highlight anomalies recommended for further analysis.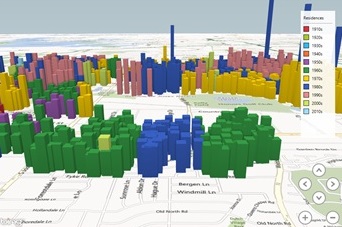 Geographic visualization combines data with a physical map, and is often used in business intelligence. For example, Microsoft recently released a tool for plotting 3D bar graphs against zip codes, allowing users to discover patterns and trends in sales history, and increase future sales.
Finally, 3D spatial charts provide interesting data visualization opportunities. The basic concept behind 3D spatial charts, is that the human mind thinks in three dimensions, and that we can more easily remember where we left an object in 3D space. Researchers then plot networks of data, such as a spider-web of relationships, in 3D, and navigate the plot like a virtual world. Although this technology is promising, it is still in its beginning stages.
The Future
Every year, 3D models are becoming richer, technology is getting more advanced, and the tools for creating breathtaking 3D software are getting easier to use. Given the history of where we started to where to are today, the future looks very bright for 3D software development. From product visualization, to augmented reality, to training software, product demos, and data visualization, 3D software development is expanding at a quick pace.
Smart companies are pushing the envelope each year, using 3D software to increase their sales, train employees, and analyze data. With the complex variety of skills needed to create great 3D software, companies like apHarmony offer 3D programming services to help clients achieve those goals.
Free Consultation
If you have any questions about a 3D programming project, please feel free to give us a call at 630-855-7522 and we will be happy to discuss.
Written by Andrew Palczewski
About the Author
Andrew Palczewski is CEO of apHarmony, a Chicago software development company.  He holds a Master's degree in Computer Engineering from the University of Illinois at Urbana-Champaign and has over ten years' experience in managing development of software projects.
Google+